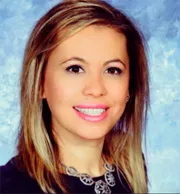 Dr. Eda Jokic grew up in Tirana, Albania where she attended her education until high school. She then moved to Plovdiv, Bulgaria where she continued her studies and graduated from a 6 year DMD program from the most prestigious university of this European region. She was awarded with the educational-qualificational degree of MASTER OF DENTISTRY in 2002.
After working in a private practice at her alma mater, she decided to venture to the U.S. to further her dental studies. Upon arrival in USA she met the challenges and struggles immigrants have to face and it was her passion and determination that pushed her beyond.
She attended New York University, College of Dentistry, when initially she enrolled in Comprehensive Dentistry Program for International Dentist and then, after highly graded completion of this program, she continued DDS program at NYU where she successfully graduated in 2014.
Dr. Jokic`s major inspiration is helping people and see them smile. She loves working with people of all ages and enjoys all aspects of dentistry. Practicing dentistry combines Dr. Jokic's lifelong passion for both, art and science. Her expertise consists of a wide variety of skills, including Cosmetic, Implant, General Dentistry, Invisalign, Surgery. Dr. Eda Jokic keeps abreast of the latest advances in equipment and techniques through continuing education and personal studies. She practices dentistry and dental medicine with compassion, earning her the praise and respect of her patients. She strives to treat your oral health problems while maintaining your comfort and providing utmost satisfaction making your visit pleasant and stress-free. Outside of the office Dr. Eda Jokic enjoys outdoor activities, spending time with her husband and her daughter Eve who gave the name to the office. Dr. Jokic speaks fluently Albanian, Serbian, Bulgarian and she is proficient in Italian and Spanish.